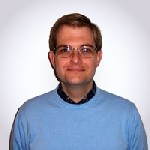 Department of Mathematical Sciences
New Jersey Institute of Technology
Newark, NJ 07102
Tel: (973) 596-5678
Fax: (973) 596-5591
Email: horntrop*
*Email ends with @njit.edu
Education
1990-1995 Princeton University, Princeton, New Jersey

Ph.D in Applied and Computational Mathematics, November 1995
M.A. in Applied and Computational Mathematics, October 1992

1985-1990 Washington University, St. Louis, Missouri

B.S. in Systems Science and Engineering, magna cum laude, May 1990
A.B. in Mathematics, magna cum laude, May 1990
Professional Experience
2001-Present Department of Mathematical Sciences, New Jersey Institute of Technology, Newark, New Jersey, Assistant Professor of Mathematics
1997-2001 Department of Mathematics and Statistics, University of Massachusetts, Amherst Assistant Professor of Mathematics
1995-1997 Courant Institute of Mathematical Sciences, New York, New York Associate Research Scientist under Professor Andrew J. Majda
Academic Awards and Honors
Distinguished Teaching Award Nominee, University of Massachusetts, 2000-2001
Princeton University Graduate Fellowship, 1990-1993
Member of Pi Mu Epsilon Mathematics Honorary
Member of Tau Beta Pi Engineering Honorary
Research Interests
Monte Carlo simulation, scientific computing, mesoscopic models, pattern formation, turbulent transport.
Special Skills
Extensive experience in Fortran, Unix, Tex, and Mathematica. Programming experience on supercomputers including the C-90 and T-90.
Funding History
Spectral Schemes for stochastic partial differential equations for Surface Processes, PI, NSF DMS-0406633, July 2004-Junr 2007.
Acquisition of a Computer Cluster for the Center of Applied Mathematics and Statistics at NJIT, Investigator, NSF DMS-0420590, Sept 2004- Aug. 2007.
ITR: Mesoscopic Modeling and Simulation: A Novel Approach to Monte Carlo Methods, Co-PI, NSF DMS-0219211, Sept. 2002-Aug. 2005.
Scientific Computing Research Environments for Mathematical Sciences (SCREMS), Co-PI, NSF DMS-0079536, Sept. 2000-Aug. 2003, (University of Massachusetts).
Dr. Horntrop's Publications